This is an amazing and unbelievable turn of events, when you consider what has occurred to Bill Cosby.
Only weeks ago, he was the aging comedian, a skilled craftsman in his field.. Someone who represented an important faucet of pop culture for countless people. He was an important person who discussed a variety of issues, including race, politics, and family.
And when he decided to take to Twitter and ask fans to meme him, he probably would never have guessed that people would maim him..
In some viral form of internet irony, the entire story broke open with the floodgates of frenzied gossip reports on the same day that Kim Kardashian's naked rear end was published in PAPER.
Bill Cosby, or his PR people, wanted people to 'meme him' on Twitter. They did.. and they brought back some old 1980s accusations the Cos raped a woman named Barbara Bowman..
Some of the memes are cited here: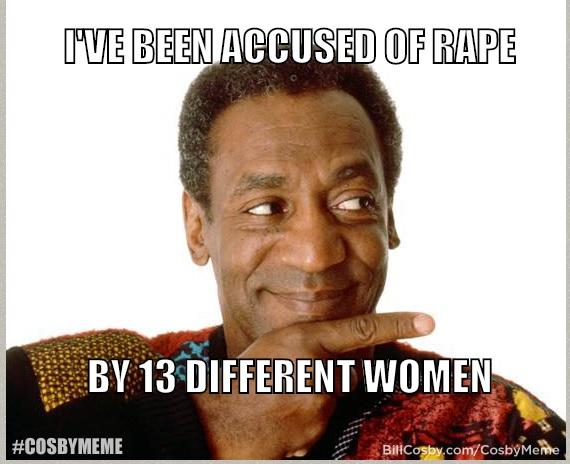 But the real question some are asking, including Scott Kaufman in this article on Raw Story, is why it took a man to name Cosby in this old 20th century rape scandal to bring it to a forefront.. A comedian named Hannibal Burres was the one who brought attention to the matter during a bit.. No one really ever cared about it until now, and Bowman's story never got attention that it may have deserved..
But suddenly new found attention is being placed on the matter..
Opinions are divergent online, with some calling the matter old news and others who just found out that they beloved TV sitcoms suddenly becoming enraged over allegations they never grew up knowing..
One comment on the RAW STORY was the most notable to me.. the user wrote,
All I know, is that I had no idea, until just recently. Gotta love how the internet makes it impossible hide things like this, the way people could, back in the 80s. I'm thinking it was just a matter of needing someone to bring it up again, for it to go viral.

Also, never heard of Hannibal Burress, but like the way he nails it, in that bit. Funny how often that sort of out-of-touch old fashioned moral superiority turns out to hide something much worse.
Gotta love the internet indeed.
Kim Kardashian nude one hour. The next Bill Cosby's dirty laundry recycled for a new generation to read..
Since then, things have only gotten worse for the star, with him being forced to cancel interviews and also having to have lawyers address things he certainly wish would have stayed in the 20th century.
And now today, the escalation of events has occurred even more.
In the wake of the latest allegations, Netflix has postponed its plan to release Cosby's new comedy special.
"Stuffing feelings of rape and my unresolved issues from this incident has drove into a life of trying to hurt myself," Dickinson said in an interview with co-host Kevin Frazier. Dickinson, a former judge on "America's Next Top Model," has publicly battled substance abuse for decades
This is getting really bad for Bill Cosby..
The man who wanted people to meme him..
And now this.
Meanwhile, the controversy over how journalists are covering the Cosby scandals from the 20th century is taking center stage—yet again thanks to CNN no less. A few days ago anchor Don Lemon made some news by saying 'there are not ways to perform oral sex if you didn't want to do it' ..  Even more, Lemon thinks that the accusers, including Janice Dickinson, should have bitten off Bill Cosby's genitals. 
That got me thinking about how much different the 1980s would have been without the Huxtables. And if the first woman would have done it, how none of the other women would have been raped by Bill Cosby.
Oh .. Cos.. you're just not going to stop the floodgates on this one.
x x x
In some research of this story, a website popped up in my search results that seems to have a very creepy feel in the context of the latest events.
I found a little treasure trove on Tumblr that hasn't been updated for several years.. it's http://cosbygifs.tumblr.com/.. And yes, you can imagine the unfortunate jokes that can be now made about each and every moving picture..
Now we just need CNN'S Don Lemon to ask why no one bit off his genitals in those pictures..
x x x
And the piling on continues.
And her description as it appears in RAW STORY is certainly one of a creepy nature. She types this,
Bill Cosby never hit on me and was never seductive in any way. But I remember how intimidating and menacing he was all the same. I met him when I was assigned to write a feature story on him for the Associated Press in February 1992.

He was at the peak of his powers when I was ushered into his dressing room at the Kaufman Astoria studios in Queens. The groundbreaking Cosby Show, one of the most successful TV series of all time, was in its eighth and final season. The year before, this 54-year-old son of an alcoholic father who grew up in a North Philadelphia housing project had made $113 million.
Gets weirder:
However, as I wrote in my ensuing article about Bill Cosby, "the tension in the air was remarkably thick" as Cosby immediately took control of our interview by treating me to a fairly hostile 14-minute discourse on why he distrusted the press. (You can find the article online.) Cosby's attitude was especially bewildering because he usually got good press. He was for years one of the most beloved performers in show business.

"Tell me what you want to ask and we'll see how it goes," he told me, speaking slowly and measuring his words. "If it doesn't go well, I'll give you a piece of fruit. I'll give you an apple or pear and you can be on your way."

My questions apparently passed muster, although as I wrote, Cosby "controls the interview by stretching each answer into a lengthy soliloquy."

The interview was so unusual and uncomfortable that it seeped into the article I wrote. It's hard to know how else I could have written it. The substance of what he said took a back seat to the atmosphere Cosby created between us. He was a very scary guy.

Less than a week after the story was published, I received a package at AP's world headquarters, which was then at 30 Rockefeller Plaza. This was years before 9-11 so of course I opened it without trepidation.

Inside was a sheet of paper with three typed words: "Here's your apple." The signature in black ink read "Bill Cosby." And wrapped in a paper towel was indeed an apple, dried and withered.
So back to the http://cosbygifs.tumblr.com/ for the appropriate picture:
This is the state of our current affairs. The mighty are falling, the truth, concealed by history and dusted over printed publications of yesteryear, are now coming out into light of day of FTP and social media.
The meme is complete.. Bill Cosby got what he asked for. Just not what he expected.